Viral,Smartwatch Dapat Bantu Deteksi COVID-19 sebelum Gejala Muncul !!
Kilatnews– Morning semua,semoga selalu sehat dan sentosa ya.Admin kembali akan membahas sesuatu yang menarik .Yaitu Smartwatch Dapat Bantu Deteksi COVID-19 sebelum Gejala Muncul .Selengkapnya hanya di Kilat.
Smartwatch dapat memprediksi seseorang terinfeksi COVID-19 seminggu sebelum dia merasakan gejala atau dinyatakan positif
Demikian hasil studi dari Mount Sinai Health System di New York dan Universitas Stanford di California. Para peneliti mendapati bahwa perangkat semacam Apple Watch dapat mendeteksi perubahan halus pada detak jantung seseorang, yang dapat menandakan kalau seseorang terkena virus Corona hingga tujuh hari sebelum timbul gejala atau infeksi yang terdeteksi dari pengujian.
Tujuan kami adalah menggunakan alat untuk mengidentifikasi infeksi pada saat infeksi atau sebelum orang tahu bahwa mereka sakit," kata Rob Hirten, asisten profesor kedokteran di Icahn School of Medicine di Mount Sinai di New York City.
Orang dengan COVID-19 mengalami variabilitas detak jantung yang lebih rendah. Dengan kata lain, sedikit ada variasi waktu antara detak jantung individu yang positif dan negatif COVID.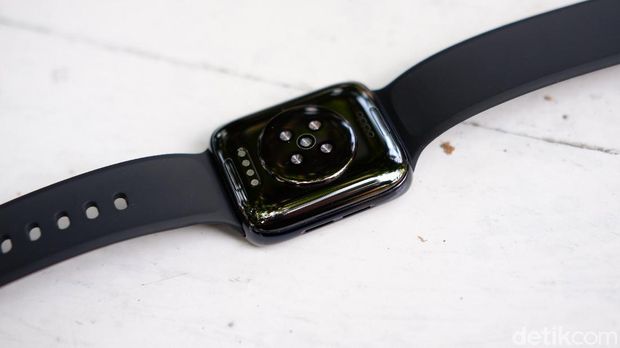 Oppo Watch Foto: Adi Fida Rahman/detikINETS

SMARTWATCH
Peneliti mengamati hampir 300 tenaga kesehatan di Mount Sinai yang mengenakan Jam Tangan Apple antara 29 April dan 29 September. Apple tidak berpartisipasi atau mendanai penelitian tersebut, tetapi menyadari kemampuan jam tangannya. Tim Cook pada bulan September memuji peran jam tangan dalam studi Mount Sinai.
Data yang dikumpulkan oleh jam tangan pintar dapat berperan dalam membantu menjinakkan virus. Ini mengingat lebih dari setengah kasus virus korona disebarkan oleh pembawa tanpa gejala, menurut Centers for Disease Control and Prevention yang diterbitkan minggu lalu.
"Saat ini, kami mengandalkan orang yang mengatakan bahwa mereka sakit dan tidak enak badan, tetapi memakai Apple Watch tidak memerlukan masukan pengguna aktif dan dapat mengidentifikasi orang yang mungkin asimtomatik. Ini adalah cara untuk mengontrol penyakit menular dengan lebih baik," Kata Hirten.
Demikian artikel mengenai smartwatch dapat mendeteksi covid 19.Semoga bermanfaat ya.Sumber : detik.com